Product Description
Cliff Keen NCAA Sublimated Long Sleeve Football Referee Shirt
Cliff Keen NCAA Sublimated Long Sleeve Football Referee Shirt. Offers the best appearance in a college football officiating uniform. Sublimated 2" stripe shirt includes U.S. Flag, position placket on back and front pocket, and CFO emblem seamlessly sublimated (dyed) directly into the shirt. No patches to sew on. No embroidery. No inside backing or heavy stitching. These emblems will never peel off your shirt. Since there's nothing attached to the shirt it's easier to fold.
Cliff Keen has pioneered the sublimation dye process in the officiating world, featuring the most comfortable performance moisture wicking fabric available anywhere. Vivid colors and detailed graphics dyed directly into the garment. Simply put, you won't find a nicer shirt out there.
Size: M (42), L (44), XL (46), 2XL (48), 3XL (50)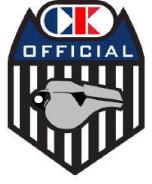 Testimonials on Cliff Keen's Sublimated Officials Shirts:
"Throughout the 2012 season I wore Cliff Keen and it performed as expected. I was very happy with the fact that there was never an issue with fading, wrinkling or snagging. I especially appreciated the ability to wash in cold water, hang dry and pack for the next week. I want to say a special thank you again to the people at CK for providing us additional gear as we headed to Miami, that was very much appreciated." -Brad Robinson, Back Judge, PAC-12 Conference Football, 2013 BCS National Championship Game Official
"Please again accept my gratitude for the uniforms provided to the crew that worked the Alabama vs. Notre Dame, BCS National Championship game because they are of the finest quality available. To a man, the crew looked sharp and professional in the new gear. Even prior to that game I only wore Cliff Keen shirts because I loved the look and the fit, and the integrated patches are a great innovation, but I had not tried Cliff Keen pants. Having tried several other pant manufacturers, I found their fit to be inferior to Cliff Keen. Not only do the Cliff Keen pants look and fit great, the comfort is outstanding. I will definitely be wearing your products in the future."---Land Clark, Referee for the 2013 BCS National Championship Game and Pac 12 Conference Football Official
"I'm impressed with the "fit" of the the Cliff Keen shirts & pants. Just the right amount of room to look good and stay comfortable throughout the entire game. Additionally, the CFO patch and position plackard are fully sublimated into the shirt so there is nothing to peal off which makes them very durable. If you are searching for great officiating gear look no further!" -Gregg Wilson, Big Sky Conference Football, White Hat- 2012 FCS National Championship Game
"I am very pleased with the comfort and durability of the Cliff Keen football shirts and pants. The shirts are very lightweight, cool and comfortable, fit great, and look sharp. I've been wearing the Cliff Keen shirts and pants for 3 years now and they look as good as the day they arrived! I am very happy with Cliff Keen apparel." -Frank Villar, Umpire, Pac-12 Conference Football, 2013 BCS National Championship Game Official
Product Videos
Custom Field
Product Reviews
You May Also Like...